Upgrades that Maximize Your Home's Resale Value
02 September 2022, 20:35
By Vlera Bajraktari, Sustainability writer for Realty Sage
Whether you're planning to sell now or in a couple of years, or you're simply looking to make your home as valuable as possible in the long term, you can potentially help increase its value with regular maintenance, renovations or even additions that could appeal to homebuyers by adding features that buyers often associate with a premium value.
Optimizing the Layout and Space in your Home
A well-designed house will feel light, open and spacious. Good internal planning includes zoning spaces by daytime living and nighttime sleeping areas, good connection between outside and inside living areas, and thinking about the home's orientation to capture natural sunlight and refreshing breezes. For example, utilize an eastern facing part of your home with a breakfast table to capture the morning sunrise and natural light. Consider setting up a patio space on the western side of your home to get the evening light to enjoy late summer dinners and possible sunsets!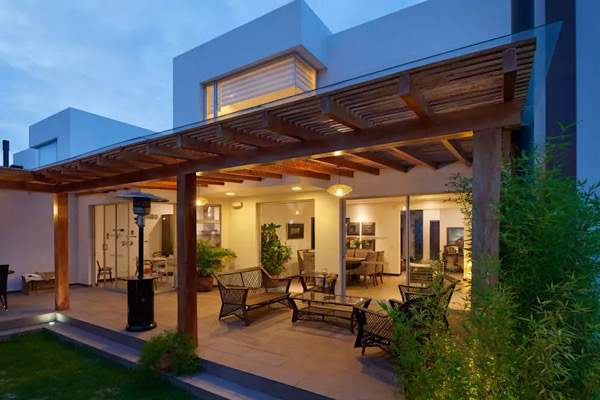 photo source Extra Space Storage
Kitchens
Value: For potential buyers, the kitchen is the room that can make or break the sale.
80% of homebuyers placed the kitchen in their list of top three most important spaces.
You can also expect to
recoup at least 54%
on a major upscale kitchen remodel. So, if you want to increase your home's value and functionality, then undergoing a complete kitchen renovation is one of your best options.
An open plan designed kitchen with a large central island is a feature that many homebuyers enjoy and therefore is also a feature that will make it better for resale value. But so many other elements in a kitchen matter!
Countertops: Buyers prefer the look of stone countertops in their kitchen. But not only can you add the look of stone using quartz, you can market your kitchen as having eco-friendly and durable quartz countertops. This is because quartz is antimicrobial, scratch-resistant, nearly indestructible, and there is minimal waste while it is being processed because it doesn't need special handling. That makes a big difference when buyers are comparing different homes and their features and what they think adds value.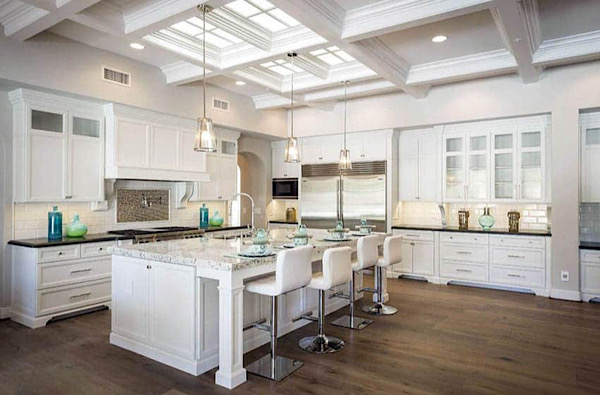 photo source Designing Idea
Energy- and Water-Efficient Appliances and Fixtures
Skipping out on energy and water saving appliances and fixtures will not only cost you money on your utility bills, it may cost you resale value. The
National Association of Home Builders
cited that 81% of buyers desire Energy Star-rated appliances. In fact,
Freddie Mac research
found that homes with high energy-efficiency ratings sold for 2.7% more than unrated homes.
Choosing the right appliances or fixtures: Today's energy- and water-efficient appliances can save you big - using less of both with greater capacity. According to
Energy Star
, energy-efficient washers use 25% less energy and about 33% less water than standard washers. Having the prominent
Energy Star
label on appliances such as washing machines, dryers, refrigerators, water heaters, air conditioners, and light bulbs makes it easier for you to purchase, but it's also easier for buyers to recognize when they tour your home.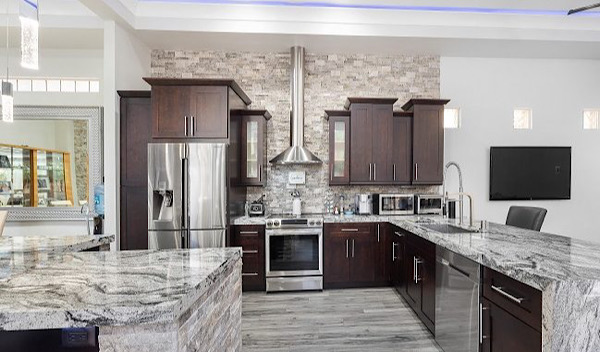 photo sourse U.S. Electrical Services, Inc.
Preventing problems before they arise: As important as it is to make a home look and feel good, maintenance is also key to improving a home's resale value. Remember to pay attention to small problems that may damage the home or make it uncomfortable or unsightly. In rooms with high humidity or odors, make sure to have proper ventilation like
Energy Star Rated Kitchen Range Hood Vents
which can prevent mold and mildew issues, as well as reduce lingering odors. Use zero volatile organic compound (VOC) paint suitable for kitchens and bathrooms to prevent paint odors and toxic fumes in the short term, and peeling paint issues in the long-term. Also take care of dripping faucets, which waste water and stain counters or sinks.
Add High Quality Insulation
Value: Adding improvements behind the walls can be tricky for home resale values. It's not as obvious as a renovated bathroom or kitchen, or as appealing as well… curb appeal! But, adding in features that reduce energy and utility costs, as well as provide a more comfortable home, like insulation, can make a difference if it's properly marketed. And guess what? It delivers great return on investment (ROI). In 2016, for example, fiberglass attic insulation gave a massive ROI of
117%
. It saves you money while you're still occupying your home, and by using less energy, it is better for the environment.
The key to making sure that you get the most out of your investment is to share the home's lower utility bills from before and after the insulation was added. Additionally, you can explain to buyers how the well-insulated home allows for consistent temperatures throughout, reducing the heat from a blistering southern facing room, or the frigidness of rooms that get little sunlight.
Here are some insulation ideas:
Closed Cell Spray Foam Insulation
is great at reducing air leakage and moisture build-up, and it is highly resistant to floodwater.
Attic Radiant Barrier Reflective Insulation
are installed in homes - usually attics - primarily to reduce summer heat gain and reduce cooling costs.
Smart and Automated Features
Value:
Home automation is also becoming increasingly commonplace. According to
Coldwell Banker Real Estate
, 61% of millennials would favor smart-tech homes, as would 59% of parents with children living in the house. Smart features such as kitchen appliances, thermostats for heating and cooling, lights, locks, smoke and carbon dioxide detectors, and irrigation systems make a home comfortable, convenient, safe, and eco-friendly -- by also helping to reduce wasted energy and water.
Here are some smart feature ideas:
Smart thermostats
are Wi-Fi thermostats that can be used with home automation and are responsible for controlling a home's heating, ventilation, and air conditioning.
Smart lighting
relies on your home's WiFi or Bluetooth connection to provide a truly customized, super energy-efficient home lighting experience.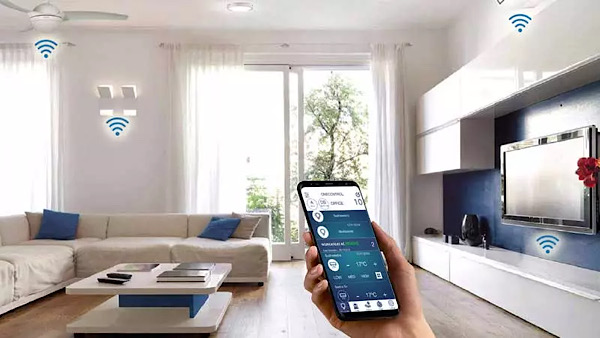 photo source Mobindustry
Do Not Forget the Outdoor Spaces
Value: First impressions are everything, and curb appeal is what potential buyers notice first. Good landscaping should ground a home, making it fit into its environment. It should also be functional and create areas for relaxing and entertaining. Once again not only adding in certain benefits like minimizing maintenance and increasing automation, but also making sure that they are marketed to potential homebuyers, will likely add to the resale value of your home.
Outdoor Ideas: Features like smart sprinklers and drought-friendly landscaping are cost-effective and require less upkeep. You can also spruce up the front walkway by planting trees and flowers on both sides and properly illuminating it.
Permeable Patio Pavers
have several advantages, such as the ability to allow rainwater to be absorbed into the ground, supplementing the ground water and relieving the sewage system.
Smart Irrigation Systems
can also save a lot of water by automatically adjusting the watering schedule to actual conditions of the site.
Check out these inspirational outdoor spaces
https://www.realtysage.com/content/view/eco-patio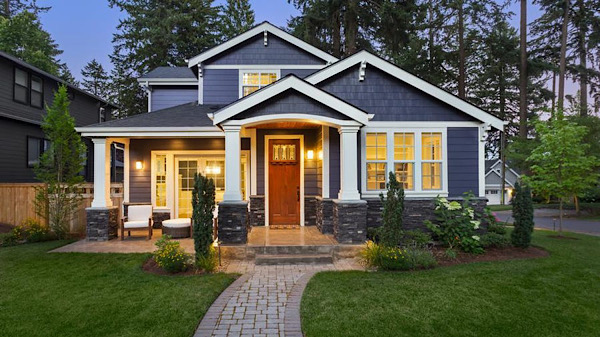 photo source Forbes
Green Certifications
Most of the above mentioned features and appliances pave the way to a green certification. There are various green certifications such as
LEED
,
Earth Advantage
,
PHIUS
. Studies show that buyers are increasingly looking for homes with green credentials. The
Earth Advantage Institute
, found that in Portland, newly constructed homes with third-party certifications for sustainability and energy efficiency sold for 8% more on average than non-certified homes, while existing houses with certifications sold for 30% more.
Resale Value = Marketing of Your Home's Features
You can add as many features to your home as you want, but when it comes time to selling your home, if you are not working with a professional who knows how to market these features, you may not get the return on the investment you were hoping for. In many MLSes agents can access certain green or premium fields. If those fields are not completed or completed inaccurately, it could mean that potential buyers never see that information on national sites like Zillow. Furthermore, when an agent is preparing their marketing materials or open houses, they will need to highlight your home's features that make it stand out above the others and be able to clearly explain to potential buyers how how these features are beneficial for cost-savings, comfort and the environment.
Agents who have greater experience or knowledge should be able to research and compare sold homes so that they do not overprice or under-price your home. A knowledgeable real estate agent also gives you a competitive advantage when it comes time to negotiate, if they know the value of your home compared to others.
A leading source of locating real estate agents by their knowledge and experience is
RealtySagePros.com.
It connects you to agents based on your unique real estate needs i.e type of home your are seeking to buy or sell and their experience and knowledge-based profile.
Conclusion
By doing a little research and working with the right real estate agents, you can make sure that your investment not only makes your home a wonderful place to live now, but a great investment when it comes time to sell.
Back to news